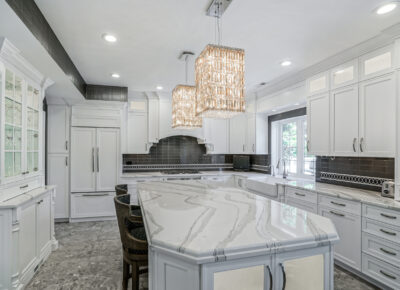 In your home, your kitchen and bathroom are key parts of your overall impression. Your countertops have an important function, and are part of each room's overall look. If you're looking to improve your home, reach out to Freedom Stone for your Pennsauken granite countertops! We are your one-stop shop for stunning and highly durable granite countertops – we fabricate and install all of our own products, and we can customize an ideal look and fit for your Pennsauken home.
Why are granite countertops a preferred choice for homeowners? For one, they can withstand a great deal. Granite countertops can handle high impacts and high temperatures without showing wear, and they hold their value for a long time. Granite also looks beautiful, being constructed from multiple types of crystals and available in multiple colors and styles. With granite, you can choose a perfect look to blend in with your home.
Your Pennsauken Granite Countertops Professionals
At Freedom Stone, we offer both pre-fabricated and custom fabricated choices of granite countertops. Whether you know exactly what you want or you're not quite sure, we can help you decide on the perfect fit for your kitchen or bathroom. If it can be built, we can make it happen! We'll meet with you personally, create a countertop design with you that suits your preferences and taste, and we'll take the time to ensure you are 100% satisfied.
Interested in seeing our countertop styles for yourself? Come visit our conveniently located showroom in nearby Cherry Hill! See all of the possibilities we have available for your home, and have a look at our displays that include waterfall edge countertops, bathroom and kitchen combinations, and so much more.
We also welcome you to see some of our finished work for yourself…have a look through our gallery of completed granite countertop installations in kitchens here and in bathrooms here, and see the difference a beautiful new countertop can make in your Pennsauken home…even get some ideas for your kitchen or bathroom upgrade as well!
At Freedom Stone, we are a locally-based company whose focus is our customers. Our services are designed for homeowners, not big box retail hardware stores. We've grown through our years in this business from repeat business and referrals – our customers are thrilled with their beautiful new countertops, and we believe you will be too.
Want to find out more? Call our office today at 609-871-8888, or click here and request your completely free estimate. Let us show you why we're the answer to your search for Pennsauken granite countertops – we're looking forward to adding beauty to your home!
Want to see finished projects and case studies? Be sure to visit our Facebook page!