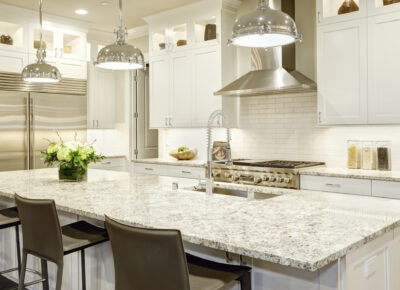 At Freedom Stone Fabricators of Cherry Hill, we're here to be your answer for Haddonfield granite countertops! If you're a home or property owner looking to add a new dimension to your kitchen or bathroom, we can design a beautiful new granite countertop to your needs and fully install it for you. All of our countertop materials are fabricated in house, which gives you more than enough styles and colors to choose from…and our staff is happy to help you find the ideal design!
What makes granite countertops ideal for your home's kitchen? Durability and function. Granite is one of the strongest surface materials available; it can withstand plenty of abuse and high temperatures. You won't have to worry about placing a hot knife or skillet on the surface. Granite countertops are constructed from quartz, making for a surface that can handle impact and resist wear. When you have a beautiful new granite countertop in your kitchen, cooking becomes easier, and your kitchen looks great!
Your Haddonfield Custom Granite Countertops Professionals
Freedom Stone offers a huge selection of colors and styles, including black, white, green, and blue with multiple choices of styles and edges. You can design your countertop to suit your kitchen perfectly, with unique coloring formed by several types of crystals. If you want your countertop to really shine, you can even choose to add a high gloss finish added to it.
Our company is staffed with professionals with years of experience in this industry, and our representatives can assist you in finding the ideal design, color and edge style for your kitchen. We do all of our fabrication in house, using only the best countertop construction materials.
Interested in seeing some samples of our finished projects, and the difference we've made in South Jersey kitchens and bathrooms? Have a look at our photo gallery here, and see what we can do for your Haddonfield home. Or you can make the short trip to our showroom in Cherry Hill, and see our granite countertop materials and products for yourself!
Whether you own a home, rental property, or a business, when you want to add beauty and value to your kitchen, the Haddonfield granite countertops professionals at Freedom Stone are here to make it happen for you. Reach out to us today to tell us your needs and ask for your free estimate. We're looking forward to meeting you, and providing you with a beautiful and durable new countertop!
Interested in seeing more samples of our finished work? Visit our Facebook page today!