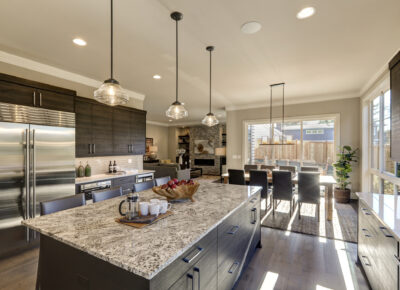 Are you a Collingswood home or property owner looking to enhance your kitchen? Let Freedom Stone Fabricators be your answer for Collingswood granite countertops! We're based very close to you in Cherry Hill, and we install first class customized granite countertops for home and business owners throughout South Jersey. We fabricate our materials in house, and we can offer you a wide selection of colors and styles made from the highest quality materials.
A granite countertop is a great choice to add beauty and value to your kitchen. It doesn't just look great…granite is exceptionally durable and can withstand a great deal of abuse, including high temperatures. You won't have to worry about placing a hot skillet on the surface. Granite countertops are usually made using sizable chunks of quartz, making them resistant to impact and wear. Adding a granite countertop makes your kitchen more visually appealing and your cooking easier.
Your Collingswood Area Granite Countertop Experts
With Freedom Stone, you can choose from a variety of styles and colors, and we're happy to help you select a countertop that blends in perfectly with your kitchen. Choose from any of our styles and edge types, and design your countertop in blue, black, white…whatever works! We can show you slabs of materials with unique coloring from its fine crystals, and you can also add a high gloss finish to preserve and enhance your countertop's beauty.
Our team of professionals have been working in this industry for over 15 years, and we use proven fabrication methods and top of the line granite materials. We can customize your countertop's design, style and color to blend in perfectly, and add new value to your home.
We're happy to show you samples of our products in our conveniently located showroom in Cherry Hill, and tell you more about our high quality services. We also welcome you to have a look at our photo gallery, and see the difference we've made in kitchens and bathrooms throughout South Jersey!
If you're interested in improving your kitchen with a beautiful and durable new granite countertop, reach out to the Collingswood granite countertops pros at Freedom Stone today and request your free estimate. We're excited to bring you a brand new granite countertop that you'll love, and improve the look of your kitchen!
Interested in seeing some of Freedom Stone's finished work? Have a look at our Facebook page!